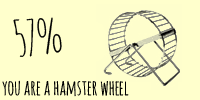 This quiz is completely pointless!
The Dante's Inferno Test has banished you to the Seventh Level of Hell!
Here is how you matched up against all the levels:

Take the Dante Inferno Hell Test
What alien are you? test by
koolerthanjesus
you are darkolivegreen
#556B2F

Your dominant hues are green and yellow. There's no doubt about the fact that you think with your head, but you don't want to be seen as boring and want people to know about your adventurous streak now and again.

Your saturation level is medium - You're not the most decisive go-getter, but you can get a job done when it's required of you. You probably don't think the world can change for you and don't want to spend too much effort trying to force it.

Your outlook on life is slightly darker than most people's. You try to see things for what they are and face situations honestly. You'd rather get to the point than look for what's good.

the spacefem.com html color quiz
I am 152 centimeters tall. This makes me taller than 0.1% of men and 5.1% of women.
|
|
|
|
|
|
|
|
|
|
|
|
|
|
|
|
|
|
|
|
|
|
|
|
|
|
|
|
|
|
|
|
|
|
|
|
|
|
|
|
|
|
|
|
|
|
|
|
|
spacefem.com/quizzes/tall/
go back home